Essentials of Oceanography 10th edition by A. TRUJILLO and H. THURMAN, download in pdf
This is also very helpful for subject 'Earth Science' in net exam.
Book is well organized, easy to read, and covers many topics in depth along with sidebars on additional real-world examples and topics.
Thoroughly class-tested for many years, the tenth edition of the text presents in-depth discussions of oceanographic concepts. It demystifies the science even for non-science students. The systems approach highlights the relationship between oceanographic phenomena and how those phenomena affect other Earth systems. Scientific information from geology, chemistry, physics, and biology combine to illustrate how each of these disciplines relates to the ocean.
 You can download it from below download link or by click the below download button.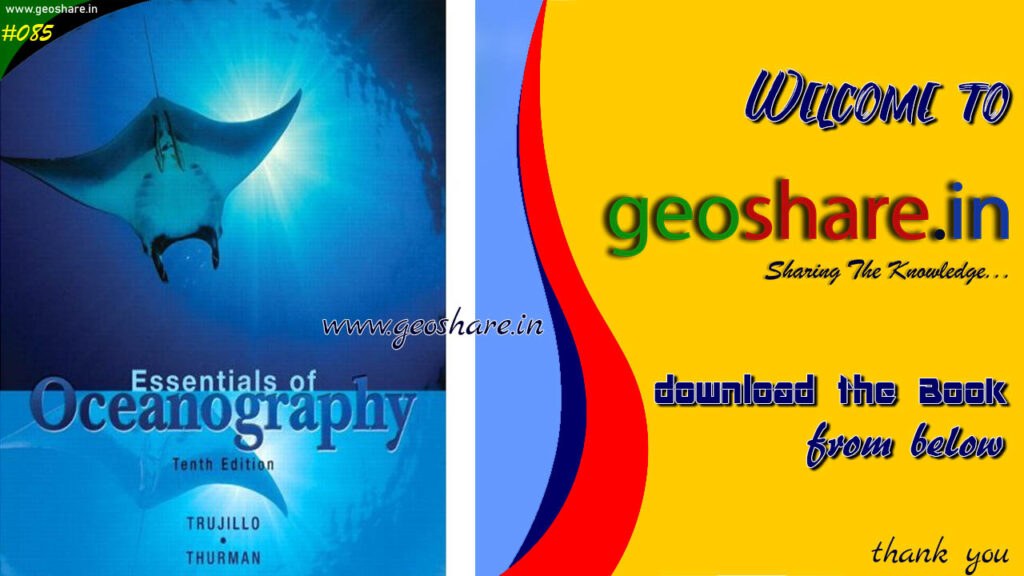 Download Essential of Oceanography in pdf from our web site geoshare.
download it by click the download button. if you have any problem in downloading please contact us.
1. INTRODUCTION TO PLANET EARTH
2. PLATE TECTONICS AND THE OCEAN FLOOR
3. MARINE PROVINCES
4. MARINE SEDIMENTS
5. WATER AND SEAWATER
6. AIR SEA INTERACTION
7. OCEAN CIRCULATION
8. WAVES AND WATER DYNAMICS
9. TIDES
10. THE COAST: BEACHES AND SHORELINE PROCESSES
11. THE COASTAL OCEAN
12. MARINE LIFE AND THE MARINE ENVIRONMENT
13. BIOLOGICAL PRODUCTIVITY AND ENERGY
14. ANIMALS OF THE PELAGIC ENVIRONMENT TRANSFER
15. ANIMALS OF THE BENTHIC ENVIRONMENT
16. THE OCEANS AND CLIMATE CHANGE
This is a DISCLAIMER
WE ARE NOT SELLING BOOKS. WE ARE SHARING ONLY FOR EDUCATIONAL PURPOSE. FULL CREDIT OF THIS BOOK GOING TO THE ORIGINAL AUTHOR/ PUBLISHER OF THIS BOOK. IF YOU HAVE ANY PROBLEM WITH THIS BOOK PLEASE WRITE TO US, WE WILL REMOVE IT IMMEDIATELY.
for more books visit www.geoshare.in - comment below or write us through fb/insta/mail if you have any suggestion.