A MONOGRAPH ON NATIONAL GEOHERITAGE MONUMENTS of INDIA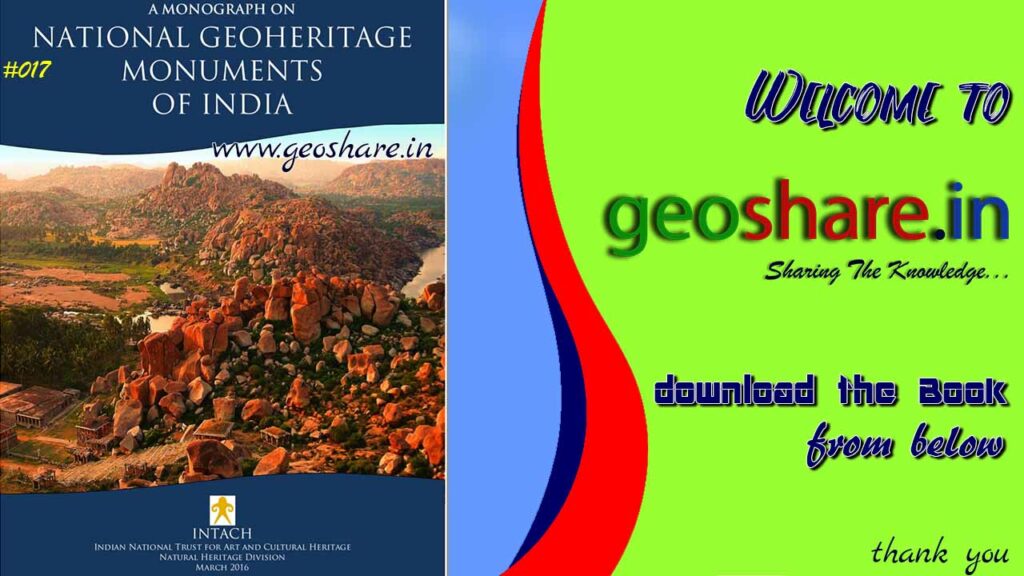 Download A MONOGRAPH ON NATIONAL GEOHERITAGE MONUMENTS of INDIA in PDF from our web site geoshare.
original credit goes to http://naturalheritage.intach.org/wp-content/uploads/2016/09/Geoheritage-Monograph.pdf or
Click here to download from original publication for free
download it by click the download button. if you have any problem in downloading please contact us.
State-wise details of the geological heritage sites/ national geological monuments
Sl. No

Geological heritage site /

National geological monument

 

Sl. No

Geological heritage site /

National geological monument

 

 

ANDHRA PRADESH

18

Kishangarh Nepheline Syenite, Ajmer Dist.

1

Volcanogenic bedded Barytes, Mangampeta at Cuddapah Dist.

19

Welded Tuff ofJodhpur Dist.   

2

Eparchaean Unconformity, Chittor Dist.

20

Jodhpur Group – Malani Igneous Suite Contact, Jodhpur Dist.

3

Natural Geological Arch, Tirumala Hills, Chittor Dist.

21

Great Boundary Fault at Satur, Bundi Dist.

4

Erra Matti Dibbalu- the dissected and stabilized coastal red sediment mounds located between Vishakhapatnam and Bhimunipatnam.

 

 

 

 

MAHARASHTRA

 

 

KERALA

22

Lonar Lake, Buldana Dist.   

5

Laterite near Angadipuram PWD rest house premises, Malapuram Dist.

 

 

CHATTISGARH

6

Varkala Cliff Section, Thiruvanatapuram Dist.

22

Lower Permian Marine bed at Manendragarh, Surguja Dist.

 

 

TAMILNADU

 

 

KARNATAKA

7

Fossil wood near Tiruvakkarai, South Arcot Dist.

24

Columnar Lava, St Mary Island  Udupi District

8

National fossil wood park, Sattanur, Tiruchirapalli Dist.

25

Pillow lavas near Mardihalli, Chitradurga Dist.

9

Charnockite, St. Thomas Mount, Madras.

26

Peninsular Gneiss, Lalbagh, Banglore

10

Badlands of Karai Formation with Cretaceous fossils along Karai – Kulakkalnattam Section, Perambalur District.

27

Pyroclastics & Pillow lavas, Kolar Gold fields, Kolar Dist.

 

 

GUJARAT

 

 

HIMACHAL PRADESH

11

Sedimentary Structures – Eddy Markings, Kadan Dam, Panch Mahals Dist.  

28

Siwalik Fossil Park, Saketi, Sirmur dt.,

 

 

RAJASTHAN

 

 

ODISHA

12

Sendra Granite, Pali Dist.

29

Pillow Lava in lron ore belt at Nomira, Keonjhar dist.

13

Barr Conglomerate, Pali Dist.

 

 

JHARKHAND

14

Stromatolite Fossil Park, Jharmarkotra Rock Phosphate deposit, Udaipur Dist.

30

Plant Fossil bearing Inter-trappean beds of Rajmahal Formation, upper Gondwana sequence around Mandro, Sahibganj dist.

15

Gossan in Rajpura-Dariba Mineralised belt, Udaipur Dist.

 

 

NAGALAND

16

Stromatolite Park near Bhojunda, Chittaurgarh Dist.

31

Nagahill Ophiolite Site near Pungro,

17

Akal Fossil Wood Park, Jaisalmer Dist.

 

SIKKIM

 
 

32

Stromatolite bearing Dolomite / Limestone of Buxa Formation at Mamley, near Namchi, South district.
Sourrce
https://pib.gov.in/newsite/PrintRelease.aspx?relid=137573
This is a DISCLAIMER
WE ARE NOT SELLING BOOKS. WE ARE SHARING ONLY FOR EDUCATIONAL PURPOSE. FULL CREDIT OF THIS BOOK GOING TO THE ORIGINAL AUTHOR/ PUBLISHER OF THIS BOOK. IF YOU HAVE ANY PROBLEM WITH THIS BOOK PLEASE WRITE TO US, WE WILL REMOVE IT IMMEDIATELY.
for more books visit www.geoshare.in - comment below or write us through fb/insta/mail if you have any suggestion.
If you have problem in downloading, follow the below